6th - 13th March 2020
Words & Photographs by Alex Metcalfe.
Attendees: Mike De La Rue (organiser), Jonathan Bamber, Alex Metcalfe, Tom Davis-Merry, Mark Grist (guest), Tom Priestly (guest), John Venier, Ian Bryant.
Things did not start well for the AC Slovakia meet. A six hour delay gave members of the team ample time to repack & worry about baggage allowance whilst others went to see the sights and sounds of Luton. The team finally convened that night to fly out and meet the Johns the following day in Tatramanska Lomnica. 
Sunday morning brought bluebird skies and fantastic conditions to tackle routes such as Wyberowka & Stanislawski. Members made it through several tough cruxs before admiting defeat. With plenty of old tat and rusty pitons knocking about, it didn't seem such an uncommon occurrence.
Over the next few days the teams headed out to explore the ridges & adjacent valeys. Mike & John B toured through Swistowka, Skalnate Pleso and Teryho Chat to name a few.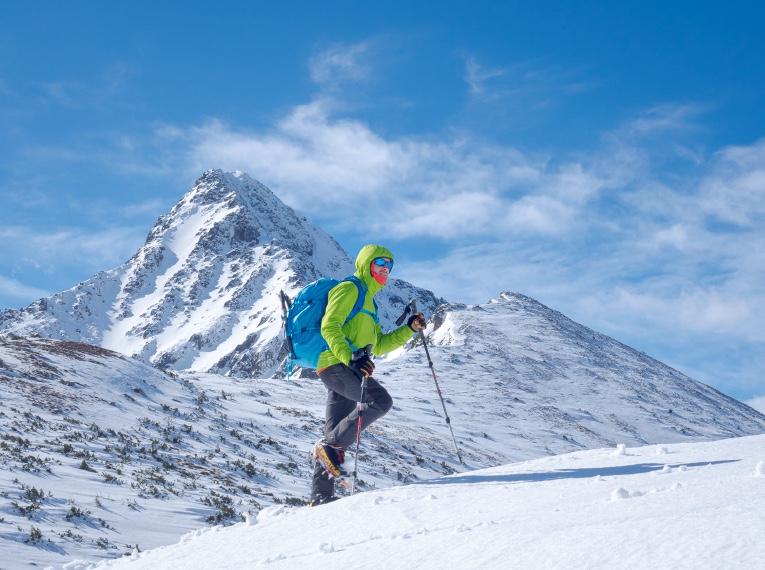 Cold Morning. 
The eastern ridge traverse of Kolový štit, 2,418m became a winner for the group with Mark & Tom P successfully completing the exposed route in good time. Alex & Tom DM attempted the route, but bailed half way to enjoy a hairy abseil by moonlight.
Wednesday brought clag and sleet. Rest day. Members of the team busied themselves cleaning gear and enjoying the hut's fantastic pancakes. It's not all spuds and turnips in Eastern Europe. Later, Mike took the Toms & Alex out to practice avalanche rescue.
The weather turned uncomfortably warm Thursday and high amounts of avalanche debris were visible on surrounding slopes. Ian and John V completed the Kolový štit ridge in high winds whilst the rest of the group stayed low exploring other valleys.
An unusually warm day exploring the adjacent valleys 
Arriving back in the hut Thursday evening we were met with the news that Slovakia had closed its airports and the border with Czechia. Something called Corona was gettng people excited. Never mind we thought, we'll wait for this to blow over and go climbing. After a lively discussion over breakfast the group decided to flee and make a dash for Poland. A strange last days of Saigon situation took over as the group legged it down from the hut to cram into the John's cars and make it over the border without incident.
Mike, Alex & Tom DM toured the old city of Krakow before rejoining the group to fly out of Krakow that night. John Venier fancied one last bit of excitement running the gauntlet in his camper van to Germany before going onto the UK.